If you're trying to promote yourself nowadays, social media is essential. As a filmmaker, one of your best ways to promote yourself is through Instagram. Instagram is the best social media site for visual creators since it's an almost purely visual medium. Instagram dominates the picture game, and it's starting to be good for video too. I've compiled my best Instagram tips for filmmakers, so you can really utilize the platform to promote your film or business.
Optimize your bio
Your bio is important real estate, and you want to be utilizing it the best you can. This means you'll need a great description of your movie or business, a solid profile picture (either your logo or your face depending on what you're promoting), and a link. Now, this link should always go to your website. I do not recommend using LinkTree or anything of that sort. Create a page on your website exclusively for Instagram and link everything important there. You can see my Instagram page as an example. If you don't have a website, you need one.
Post consistently
You don't need to post every day. In fact, if you try, you might burn out. You also don't want to post a lot and then not post for two weeks. The important part is that you're consistent about it. Set a goal that seems doable for you, like 2-3 times a week. Then, meet that goal. If you're not posting regularly, it will be difficult for you to gain traction and get an audience.
Pay attention to your grid
This is one of the things that people forget about a lot. Basically, this means think about how all of your posts are going to look together in your Instagram profile. I recommend sticking to a similar color palette, such as the palette used for your movie poster. You'll also want to think about how the images are going to fit together. Many creators will use their individual images to combine into one, larger image. You can create a row or column that fits together or even fill a whole grid (9 images) to create an image. This takes more work but looks amazing.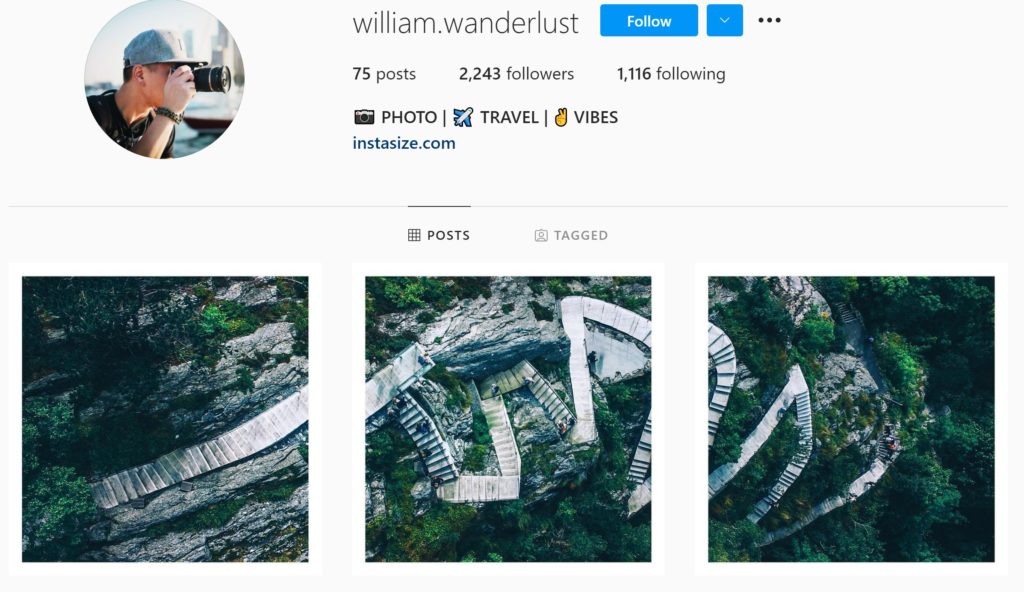 Post at the right time
This is just going to take some experimentation. You can look at tons of articles telling you when the right time to post is, but they can all be wrong for you. The general wisdom is you should post between 10 AM and 3 PM, but this can drastically change depending on the day of the week, the timezone you're trying to hit, and your industry. For example, many businesses only have success posting during the week, but if you're a small indie operation, you might have some success on the weekend. When you're first starting out, experiment with different times and days. Make sure you're paying attention to which posts are doing well, so you can start putting together a schedule that works for you. You can get access to a lot of great analytics by switching to a business account.
Schedule and forget
This is such a great way to make sure everything gets out and you're posting consistently. As I said, posting consistently is essential. There are tons of scheduling platforms out there that can help you post regularly and make your life easier. Personally, I use Planoly to get everything out. It's simple to use and incredibly helpful. You can use my referral link to sign up! In order to get the auto-scheduling, you need to have an attached Facebook page, but honestly, you should have that anyway.
If you have a scheduler, you can batch out your Instagram posts. This way you just spend an hour or so every week getting all of your Instagram posts done for the week or next two weeks. This will save you tons of time and guarantee that you have posts going out. Plus, Planoly is great for seeing your whole grid at once and planning out what you want your grid to look like.
Engage daily
This is one of my best Instagram tips for filmmakers, and it's often undervalued. Even though you can schedule your posts, you should still be engaging every day, even if it's only for ten minutes. Make sure you're responding to comments on your posts. That's the most important thing. But you can also find other profiles to follow and comment on. Do not follow people just to get a follow. Do not follow someone and like the last ten posts in an attempt to get them to follow you. Don't be that person! Personally, if someone does that to me, it guarantees that I won't even look at their profile. Honest engagement with others is the best way to get those follows and grow your audience.
Utilize hashtags
Hashtags are so important when it comes to people being able to find you and engaging with the community. Hashtags can help you tap into a brand new market. This means you need to be using the right hashtags, and you need to be using them strategically. Handcraft Films has a great and extensive list of hashtags for filmmakers to use. The only thing I would mention is that the wisdom for the number of hashtags is changing. It used to be that you should stuff your post with the max amount of hashtags, which is thirty. Instagram is starting to move away from this. Personally, I recommend five to ten really relevant and helpful hashtags. But if you want to go up to thirty, you can. Just make sure they're relevant.
Use a few general hashtags, and then some more specific ones. Make sure you always have a branded hashtag too, such as a hashtag specific to your movie or business! This way you always know when people are talking about you. You can include this hashtag in your bio as well.
Don't forget Stories and Reels
Stories are essentially posts that only last for 24 hours. They're great for promoting your content, and you can create things like polls. Don't forget to add hashtags to your Story too! You can also add Stories to your highlights section, which basically pins it to your profile. Highlights can be a great way to collect your content into little groups.
Reels are becoming an important part of Instagram, and the algorithm is really pushing them right now. So, I really recommend taking advantage of Reels. Reels are Instagram's response to TikTok, and they're basically short 15-second videos. Reels are great for showcasing behind the scenes and allowing people to get to know you and your work. You can even add music to Reels. Don't sleep on Reels!
Wrapping Up
Hopefully, these Instagram tips for filmmakers will help you up your Instagram game. Building a great Instagram presence takes time, but it's completely doable. As filmmakers, you're a visual person already. So, you just need to take some great visual skills and add in some strategy. If you're not sure what to post, I've got you covered on that front too!